Define Your Career at OppFi
OppFi is a leading financial technology platform that powers banks to provide accessible lending products to help middle-income consumers build a better financial path. We're always looking for creative new talent to join our team and make a difference.
If you want to join our growing and energetic team, check out our open positions below!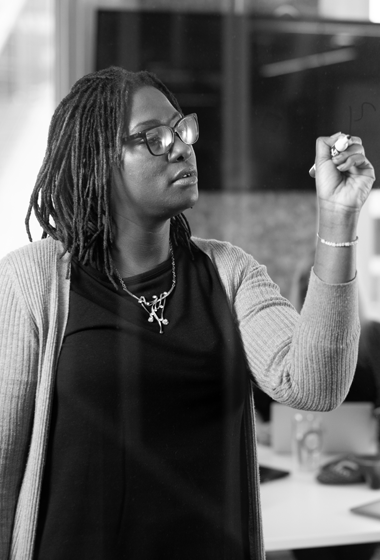 Diversity, Equity, & Inclusion Vision
Through our unwavering commitment to education and equity, we will create a world that ensures financial inclusion for all. To achieve this, we look past what's in front of us to:
Identify the root of inequity in all parts of our company,
Compassionately and empathetically center the most vulnerable,
And consistently learn about race, power, privilege, and oppression to better understand and uncover our role in unlearning it.
While we recognize diversity of identity, thought, experience, and background are important at OppFi, we are first prioritizing racial, ethnic and gender diversity.
We also know learning is not enough, so we actively work to dismantle systems of oppression in our product development, people, processes, legal policies, and customer interactions. We imagine a world where everyone has access to the finances and credit to live the life they deserve.
Diversity, Equity, and Inclusion
We are committed to improving our customers' financial lives —providing access to credit, education to better their financial health, and ultimately financial empowerment. We have a long way to go towards inclusivity, both as a company and as a society, but we are excited for what comes next in OppFi's DEI journey. The 2019 Diversity, Equity, and Inclusion (DEI) Report summarizes our first step in this valuable journey. The most recent 2021 DEI Report summarizes how far we've come, the elevation, and next steps in OppFi's DEI Journey.
Meet the Opptimists
OppFi employees approach every new challenge with an unparalleled ability to see what could be rather than settle for what is. That's why we call ourselves Opptimists.
Kenzie Saunders
Talent Development Lead
"We know that the only way we can keep getting better is to hire the best people. It's what our customers deserve."
Temeka Cartwright
Lead Trainer
"OppFi is a great place for parents to work, opportunity to move their careers forward and support to help them care for their families."
Marisol Granados
Associate, Strategy & Operations
"When you support your employees like OppFi does, they stick around."
Sam Rose
Copywriter
"I hope that everyone is lucky enough to work with those that encourage their growth and value their input."
Ibtihale Laghzaoui
Online Customer Service Manager
"The 'secret' to OppFi isn't really all that secret: We hire smart, hard-working people and then we put them in a position to succeed."
John Bradley
Quality Assurance Analyst
"If I had to describe OppFi, it would be that opportunities are endless."
Jesse Wright
Loan Advocate Manager
"This can be the most rewarding job you ever have - and it can be a lot of fun, which never hurts."
Shraya Soundararajan
Associate, Capital Markets
"This is the first job I've ever had, but I know that what we have here is very special."
Natasha Anand
Vice President, Social Impact
"The great thing about OppFi is that the opportunities will definitely be there."
Peter Alford
Associate General Counsel
"Every day comes with a new challenge; there's always something fun to look forward to."
Evette Rudolph
Senior Associate Trainer
"What keeps a business running is the love and attention you give your employees. That's your real bottom line."
Stacee Hasenbalg
Chief Compliance Officer
"From the moment I walked through the doors, I could feel this energy, this palpable buzz that ran from one end of the office to the other."
Jared Kaplan
CEO
"We're continually reinvesting in company culture and creating a home for Chicago's best to do their best work."
John McCormack
Engineering Manager
"In order to build a strong, collaborative team, you have to invest in culture — and we do."
Karishma Patel Buford
Chief People Officer
"When all our employees can be their authentic selves in the workplace, it fuels a culture of inclusion and innovation."
Living Our Business Principles
We want our team members to be excited to come to work every morning and know they are a part of something great. That's why we prize hard work, collaboration, collegiality, and letting the best ideas win the day. These core values are embodied in our five business principles: Define Success First, First Effective, Then Efficient, Best Idea Wins, Continuous Improvement, and If You See Something, Say Something.
Driven by Our Mission
OppLoans was founded with a mission to help middle-income consumers build a better financial path. We believe that giving back is important--that's why we give back to our employees and encourage them to give back to their own communities. Whether it's our Oppt to Give quarterly rewards, the work of our many employee-led communities, or the opportunity to use volunteer-specific time off for charitable work, we're always looking for new ways to live our mission.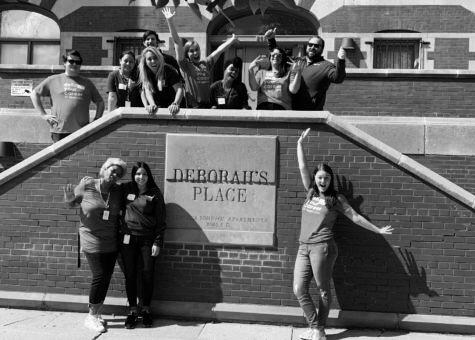 Perks and Benefits
We give all our employees the support they need to thrive and grow. That's why we offer generous vacation and insurance benefits, 401(k) matching, an Employee Assistance Program, and tuition reimbursement, as well as subsidies for childcare costs, free financial literacy tools, 6 paid weeks of parental leave, and more. Beyond our benefits, we also pride ourselves on a fun, collaborative and supportive company culture. Prior to COVID-19, this meant in-office events like game nights, bagel mornings and chair massages as well as semi-annual company parties. With all our teams working remotely right now, we're holding digital events in their place, like trivia nights, Zoom cooking classes, movie nights, and coffee chats. Through our lifestyle benefits platform Fringe, employees can access discounted services that support a healthy work/life balance. We are always looking for ways to treat our employees well and show them they're appreciated.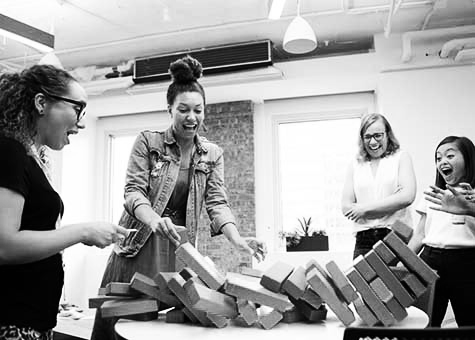 Building Belonging at OppLoans
OppLoans offers several ways for employees to organize around shared identities and passions. Our Business Resource Groups serve historically and currently underrepresented groups, allowing employees to connect with their colleagues, build our internal culture, and serve their communities all while supporting OppFi's goals and customers. Our Affinity Groups cover a wide range of interests from philanthropy and intramural sports to sustainability.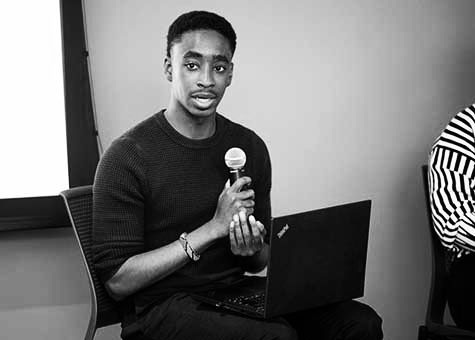 Campus Recruiting (Internships)
Bringing in the best and brightest means offering a best-in-class opportunity for today's college students. Our summer internships give current undergrad and grad students the chance to make real business contributions from day one. Many companies take their interns for granted; we don't.